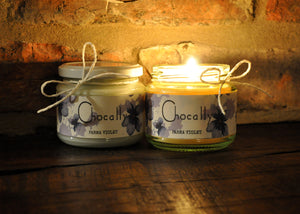 Parma Violet Handmade Candle
Regular price £15.95 Sale
Handmade Parma Violet scented candle. Bring the smell of nostalgia to your home.

35-40 hours burn time (200ml)
Cruelty Free, Vegan, Paraben Free

Made from Eco soy wax sourced under a policy of no deforestation, no peat, no exploitation.
.
.
.
Warning!
Never leave a burning candle unattended. Keep out of reach of children and pets. Do not burn candle on or near anything that can catch fire. Only burn this candle on a level heat resistant surface. Never burn this candle more than 4 hours. On first burn, always burn for 3-4 hours to ensure an even melt pool. Make sure wick is upright, above the wax and in the middle before the wax sets. Always trim the wick to 5mm before lighting. Glass may become hot during use. 
Contains: IONONE, ALPHA-ISOMETHYL IONONE, CITRONELLOL, METHYL ALPHAIONONE ISOMERS, LINALOOL, TRICHLOROMETHYL PHENYL CARBINYL ACETATE, METHYL 2- OCTYNOATE, METHYL OCTINE CARBONATE.
May produce an allergic reaction. Harmful to aquatic life with long lasting effects.